Mini Vinnies Archive
Our Mini Vinnies 2019 -2020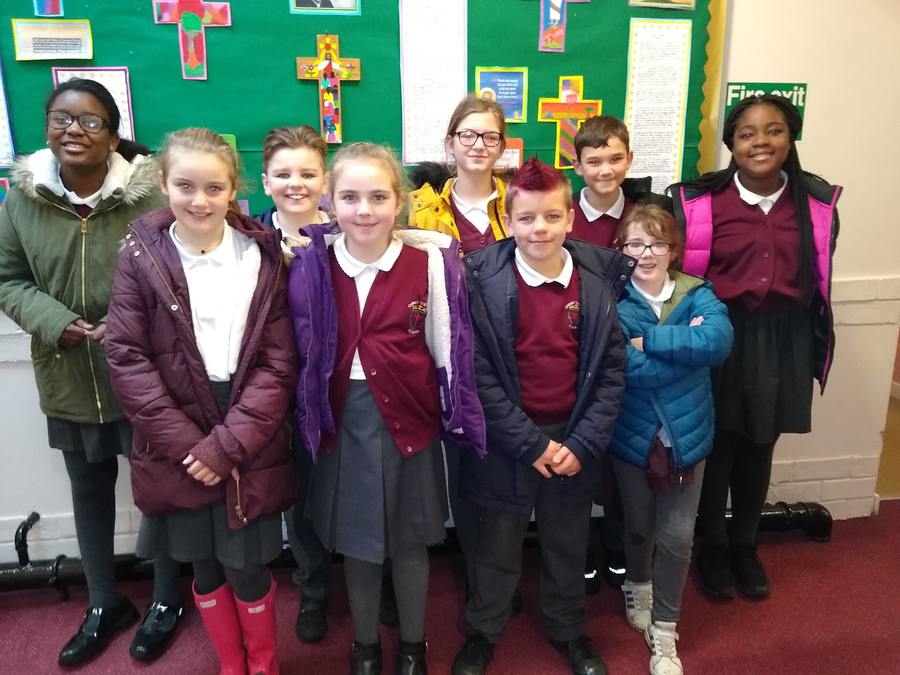 Minutes of Meetings 2019 - 2020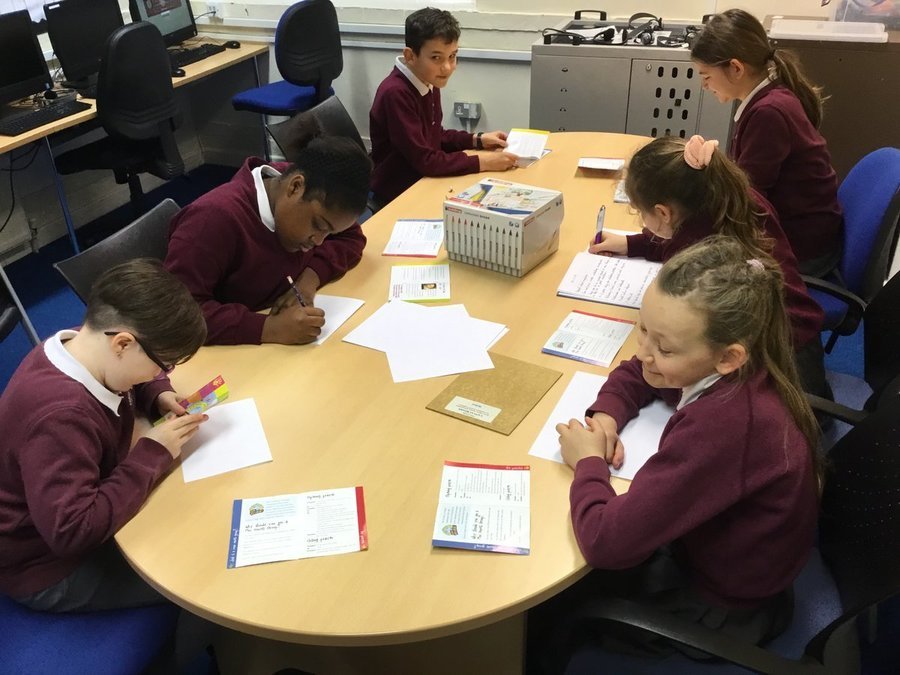 Our Mini Vinnies have been writing leaflets about The Virtues
During Advent we will be organising a collection for Mary's Meals Backpack Project. For many children, a Mary's Meals backpack will be the first gift they have ever received. It is a great way to recycle; Mary's Meals welcome good quality, second-hand items and you can donate a filled backpack, an empty backpack, or any of the individual items on the list. More information will be coming home soon.
On 25th October some of our Mini Vinnies went to take our Harvest Festival donations to the St Vincent De Paul (SVP) Centre in Leeds. The staff at the centre took time to show us around the centre and tell us all about how the donations go out to help those in need. We helped to place some of the food in the store and learnt about the food packages that are sent out to people. The staff and the SVP Centre have asked us to pass on their thanks for all of the kind donations. They said that it will make a real difference.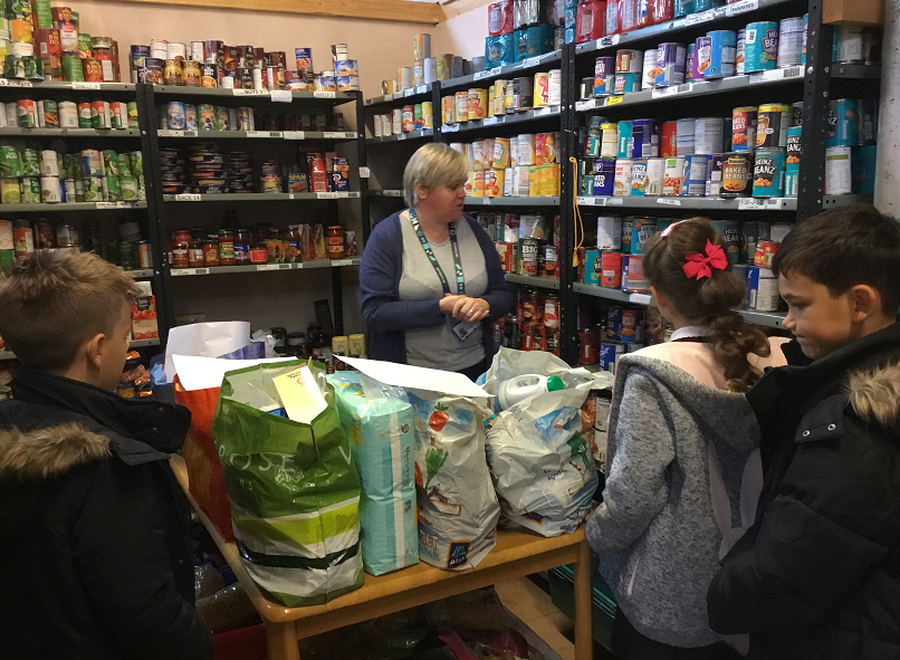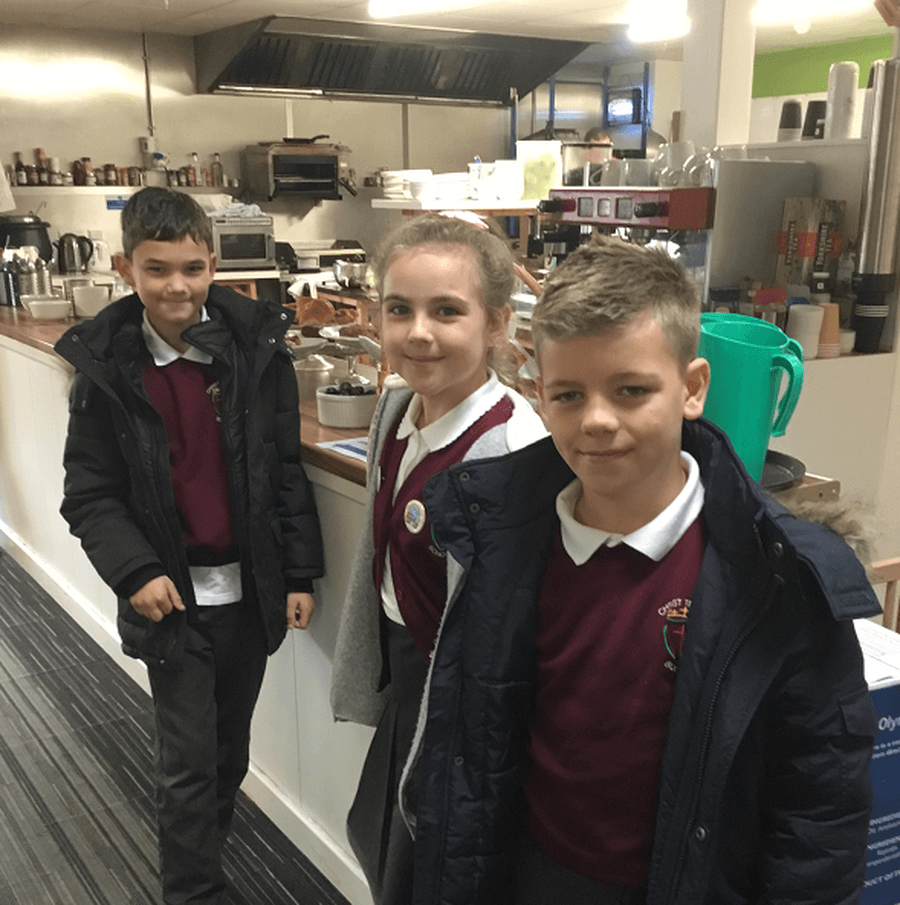 Dear Parents/Carers
We would like to inform you that we are collecting items of food for our Harvest Festival.
We are collecting food for people in need and less fortunate than ourselves.
When we have gathered the food we will be taking it to the St Vincent de Paul Centre.
We are looking for donations of food items such as
tins of fruit and vegetables

tins of beans and spaghetti

packets of food such as pasta and rice

packets of crisps and biscuits
We would urge you to support us with this worthy cause.
Please try and bring something in to help.
Thank you.
Minnie Vinnies
Diana Gabriella Oliver Jimmy Abigail Ellie Karolina Xander Esabelle
Bring and Buy Sale
Two of our Year 5 pupils came to ask Miss Clark if we could organise a Bring and Buy Sale to raise money during Lent. We thought that this was a wonderful idea. Mrs Clancy-Taylor and Miss Gray are going to help our Year 5 pupils and the Mini Vinnies to prepare this on Friday 15th March.
We would therefore ask that the children bring into school any toys in good condition that they no longer want by Wednesday 13th March. It's a great opportunity for an early Spring clean!
On Friday the children from all classes will have the opportunity to come into the hall to buy any toys that they would like from the stalls and in the process help to raise money for our worthy charities.
Mrs Clancy-Taylor and Miss Gray have said that all items brought into school will be priced between 20p and £2.00.
Any items left will be donated to St. Gemma's Hospice, which is the charity that the parish is supporting this year.
Update!
Thank you to all of the children and parents who supported our Bring and Buy Sale. The money has been counted and we are delighted to announce that the children have all helped to raise over £90 ,which will go to CAFOD and the Good Shepherd Appeal.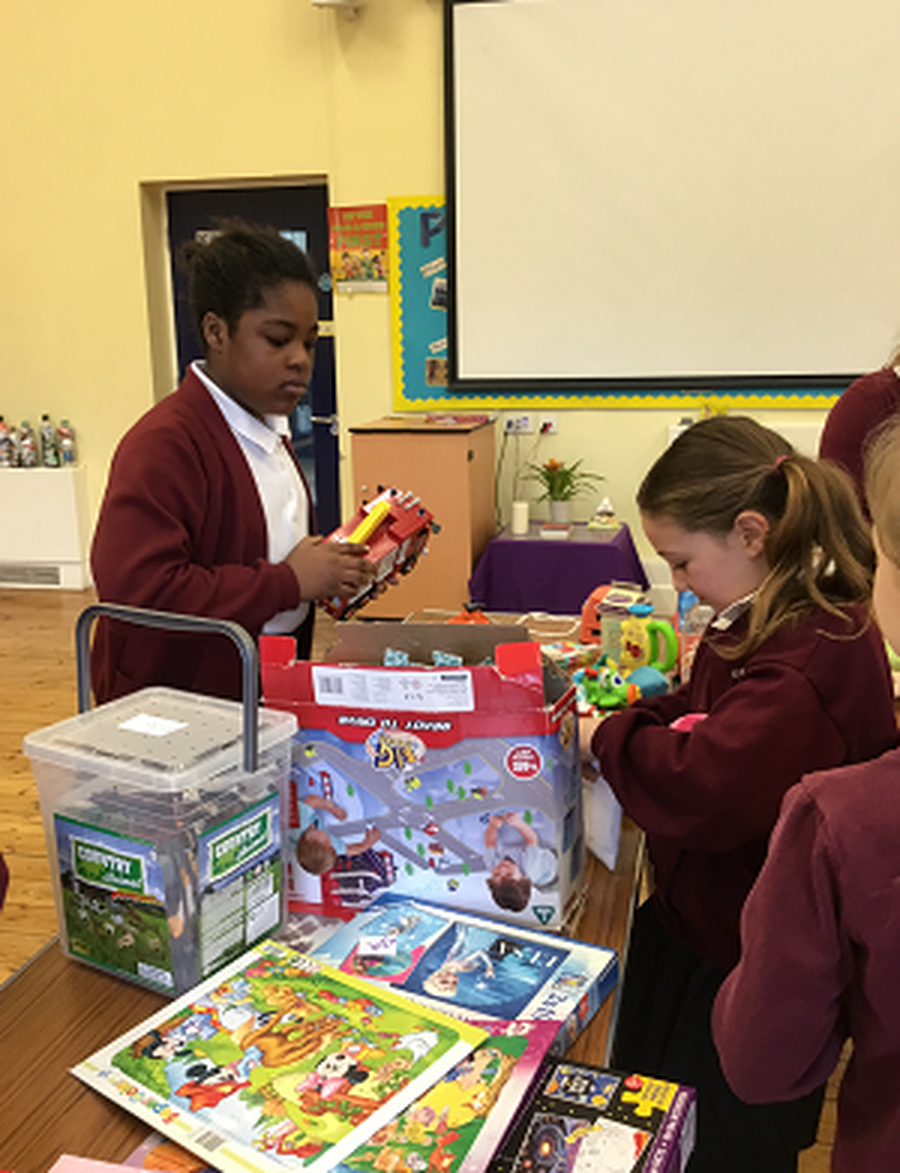 Reverse Advent Calendar
We are creating a reverse Advent Calendar. This involves bringing in (non perishable) items of food on each day of Advent. At the end of December the food collected will be donated to the St Vincent Centre for distribution to the less fortunate in our community.
Here is a list of the items we need:
· Soup
· Pasta
· Rice
· Tinned tomatoes/ pasta sauce
· Lentils, beans and pulses
· Tinned meat
· Tinned vegetables
· Tinned fish
· Tea/coffee
· Tinned fruit
· Tinned rice pudding
· Biscuits
· UHT milk
· Long Life fruit juice
Harvest Festival Mass 16th October 2018

This year Fr. Doody celebrated our annual Harvest Festival Mass with us. The Mini Vinnies created a display with all the food which was donated. The food was later collected by Mr John Battle, a member of our parish SVP group and national Vice President of the Saint Vincent De Paul Society, who took it to the St Vincent Centre for distribution to members of our community who are struggling to make ends meet.
Macmillan Coffee Morning 28th September 2018

The Mini Vinnies very much enjoyed helping out at our Macmillan Coffee Morning and they did a wonderful job. There were still some cakes left over at the end of the morning and so the St. Vincent De Paul parishioner group very kindly said that they would continue to sell the cakes and coffee after Mass on Sunday morning to raise even more money for this charity event.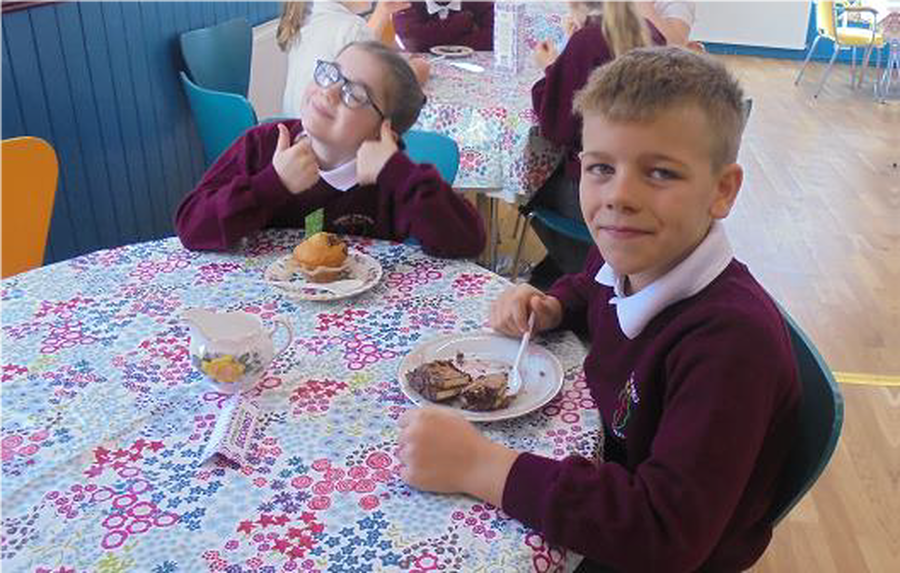 Mini Vinnie Celebration Mass 14th September 2018
.
On 14th September our Mini Vinnie's were invited by Bishop Marcus to a very special celebration mass at the Cathedral. They were able to meet fellow Mini Vinnie's from across the diocese and they all seem to have a renewed energy for their role in school.
Our Year 6 Mini Vinnies provided excellent waiter service at the SVP Mass and high tea for the elderly and housebound on Thursday 28th March 2018. (Click on an image to enlarge it)
Our Enrolment Assembly 27th April 2017